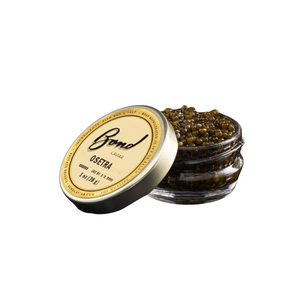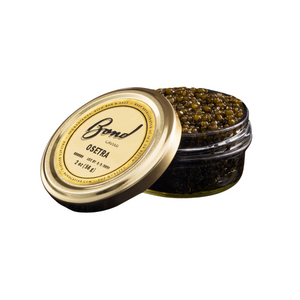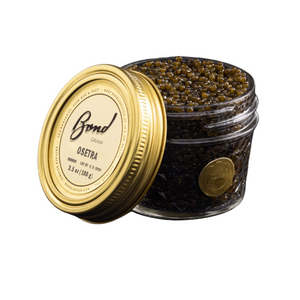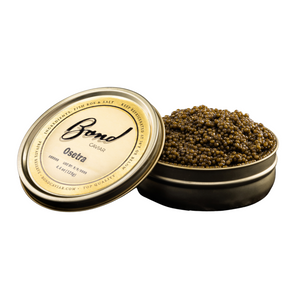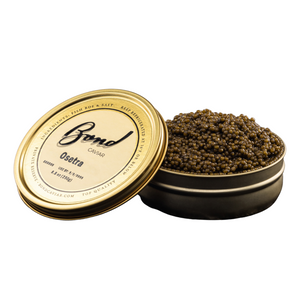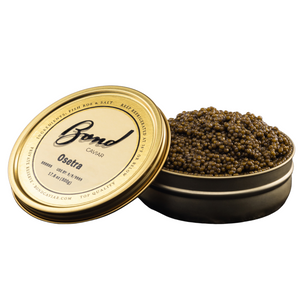 Flavor: Unique clean, sweet, crisp, and subtle 'nutty' taste.
Size: Large to medium-size grains.
Color: Golden yellow to dark brown.
Origin: Imported
Packaging: Glass Jars and Metal Tints.
Preparation: Fresh, Cured with Salt.
Caviar Fish & Grade: Osetra Caviar.
Shelf Life Refrigerated: Glass jars: 180 days. Product pasteurized. Metal tins: 6 weeks.
Shelf Life Opened: Consume within 3 days of opening.
Storage Type: Refrigerator – 38F or below.
Shipping: Product is perishable and will be shipped via FedEx Overnight Service.

** $14.99 flat rate shipping in NY Tri-State Area
** $29.99 flat rate overnight shipping in the continental USA
** Free shipping on orders over $300
** Saturday delivery is currently not available
** All orders for Next Day Delivery must be placed by 3:00 PM EST Monday - Thursday.
** You may select your preferred delivery date on the calendar during checkout.
** All products are shipped overnight Monday - Thursday. If the order comes in after 3:00 PM EST on Thursday, it will be shipped the following Monday, unless a specific delivery date is selected.
** We use a fully insulated temperature-retaining system that keeps all contents cool. This technology retains products' temperatures for a full 48 hours in air temperatures of up to 90 degrees. We proudly guarantee that all food products you receive from BOND Caviar are just as fresh as when they left our facilities.

.05 oz

(14g)

1 Servings
1 oz

(28g)

1-2 Servings
2 oz

(56g)

2-4 Servings
3.5 oz

(100g)

3-5 Servings
4.4 oz

(125g)

4-8 Servings
8.8 oz

(250g)

9-16 Servings
17.6 oz

(500g)

17-32 Servings
35.2 oz

(500g)

33-64 Servings